About IOI-Canada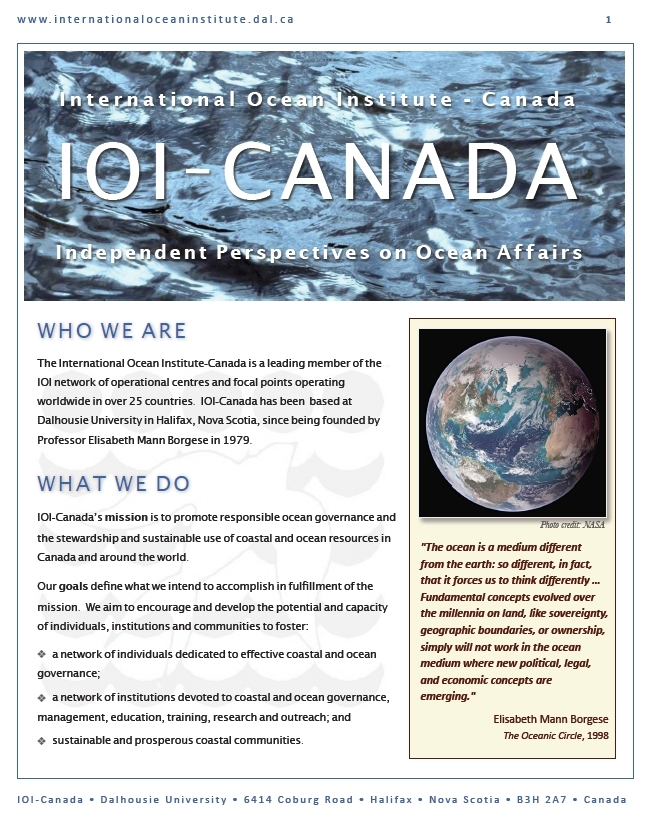 IOI–Canada is a leading centre of the International Ocean Institute, an international, independent, non-governmental, non-profit organisation. Details are available in our six-page brochure.

Founded in 1972 by the late Elisabeth Mann Borgese -- and currently celebrating its 50th Anniversary -- the IOI is incorporated in the Netherlands and headquartered in Malta. It aims:
to ensure the sustainability of the Ocean as the source of life, and to uphold and expand the principle of the common heritage as enshrined in the United Nations Convention on the Law of the Sea; and,


to promote the concept of Pacem in Maribus – peace in the Ocean and its management and conservation – for the benefit of future generations.
Details of the evolution of the organisation can be found in The IOI Story (2001). Written by Elisabeth Mann Borgese, Krishan Saigal and Gunnar Kullenberg, this book provides a description of the three phases of IOI's development since its inception.

IOI-Canada dates from 1979 and is a federally incorporated organisation, governed by a Board of Directors. Under a Memorandum of Agreement with Dalhousie University, it is housed on the Dalhousie campus in Halifax, Nova Scotia.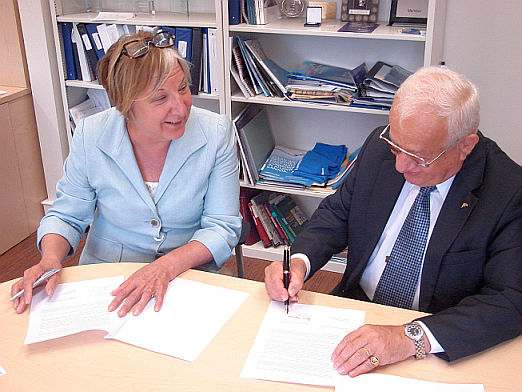 Signing of Dalhousie-IOI MOU by Dr Martha Crago, VP-Research, Dalhousie University
and Dr Awni Behnam, President, IOI

Guidance is provided by the IOI/Dalhousie Oceans Advisory Committee, whilst IOI staff conduct day-to-day activities and Senior Research Fellows contribute to education and research activities. Download IOI-Canada's Strategic Plan for a summary of the main areas of focus for 2010-2020.

One of the IOI's key activities is training, and the Institute's flagship interdisciplinary training programme has been conducted at Dalhousie University each summer since 1981 (except during the covid pandemic). Further details of this course on Ocean Governance: Policy, Law and Management as well as recent online offerings are available in the training section of this website. IOI-Canada currently boasts over 735 alumni from more than 100 countries around the globe.

The Ocean Yearbook editorial office is also based at Dalhousie University. Details of this major IOI publication, which is produced in co-operation with the Marine & Environmental Law Institute at the Schulich School of Law, are available on the Ocean Yearbook website. Electronic versions of the Tables of Contents of past volumes can also be found there.

For more information, please contact the IOI-Canada office.