EMB @ 100:
Marking the Centenary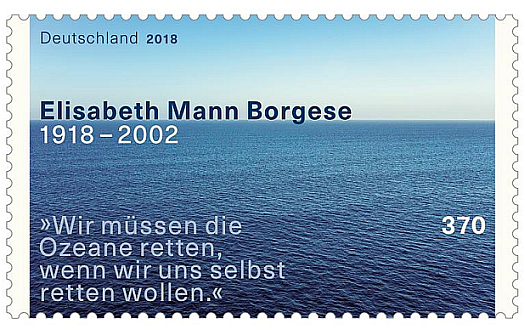 Credit: Deutsche Post


2018 is the 100th anniversary of the birth of Elisabeth Mann Borgese (1918-2002). Although she would definitely not want to be deified(!), her vision, legacy and international cadre of Ocean Mafia continue to have an important influence on the world's ocean and deserve to be marked and celebrated. And while she would probably be pleased just to be toasted with a commemorative glass of her beloved scotch or remembered over some Niederegger marzipan, IOI-Canada has been putting together a special Ocean Lecture Series in conjunction with a display on EMB's life and work, and an extensive volume of essays in her honour.

The lecture series is scheduled to take place in Halifax as follows:

21st September: Peaceful Oceans? The Role of International Dispute Settlements.
4th October: Governing Ocean Plastics - Between Action and Anarchy.
All welcome. Details available in the lecture series announcement and more information will be posted nearer the time.

The commemorative volume of essays is due to be published by Brill Nijhoff later in the centenary year. The Future of Ocean Governance and Capacity Development - Essays in Honour of Elisabeth Mann Borgese (1918-2002) will feature contributions from over 80 specialists and practitioners in the field of ocean governance. It is based on themes and issues covered in IOI-Canada's interdisciplinary training programme, which was set up by EMB in 1981 and has been held every year since then.

For more information, e-mail ioi@dal.ca. For details of other EMB centenary activities in the IOI network, check out the Commemorative Activities section of IOI HQ's website.



[O]ur generation can take some pride in having contributed,
no matter how fumblingly and bunglingly,
to the making of the new order for the seas and oceans,
to the opening of new ways of thinking about world order,
and to the hammering-out of a platform from which in the future,
a great many new initiatives can be launched.

Elisabeth Mann Borgese, 1987