Visiting Researchers
IOI-Canada occasionally hosts Visting Researchers who are working on marine or coastal issues. As such, we are pleased to welcome Bertrum MacDonald from September 2016, during his year-long research leave.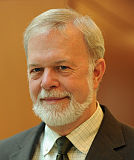 E-mail: bertrum.macdonald@dal.ca



Dr MacDonald, who recently concluded a term as Dean of the Faculty of Management at Dalhousie University, is research lead for the Environmental Information: Use and Influence (EIUI) research programme. During his time at IOI-Canada he will continue to advance understanding of the many pathways of information (scientific, social science, and local) at the science-policy interface in marine environmental contexts.

Together with three EIUI colleagues -- an IOI-Canada alumna, Senior Research Fellow and lecturer! -- he recently published Science, Information, and Policy Interface for Effective Ocean and Coastal Management (CRC Press, 2016). This is the first book to focus exclusively on the role of scientific information in the development of coastal and ocean policy and management of the oceans. The EIUI team will also be undertaking studies in research modules of the recently announced Ocean Frontier Institute, which is supported by a $93.7 million grant from the Canada First Research Excellence Fund.