Alumni Profile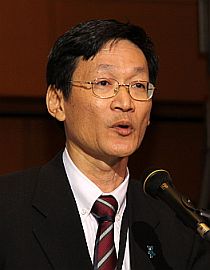 Cherdsak Virapat
Thailand
I attended the training course in 1999 as a participant from Thailand. During the training course, we learned so much on ocean related matters, and the accountability and responsibility required for everyone to take on the ultimate goal of the sustainable management of oceans and their resources. As the class approached the end, I realized that I had gone through the learning processes which allowed me to think carefully about the complexity and uncertainty in managing oceans and their resources.
After returning to Thailand, I began my active role with the Department of Fisheries and the Office of the Thai Marine Policy and Restoration Committee under the Office of the Prime Minister. Later on, with the assistance of the Former IOI Executive Director, Dr. Gunnar Kullenburg, I managed to establish the IOI-Thailand Operational Centre under the Office of the Thai Marine Policy and Restoration Committee in 2000.  I had three responsibilities; a Chief of Small-Hold Aquaculture and Royal Initiatives Sub-Division at the Department of Fisheries, a Coordinator of the Office of the Thai Marine Policy and Restoration Committee, and the Director of IOI-Thailand.
For IOI-Thailand, I initiated and integrated ocean-related activities into my main job at the Department of Fisheries which were accepted and supported by the high level government decision makers. My main contributions during the last ten years involved organizing the Thai Marine Policy and Strategy Expert Consultation Meeting in 2002, strategic planning on community-based fish pond management in Thailand, establishment and development of the National Disaster Warning Center after the Indian Ocean Tsunami in 2005, development of a multi-level, multi-coordination and participatory approach for Thailand on tsunami early warning and mitigation system during 2005-2008, implementation of an important community-based disaster management project entitled "Adaptive Learning in Disaster Management for Community Awareness and Resilience" under UNESCO/IOC in 24 schools/communities of six Andaman coastal provinces affected by the Indian Ocean tsunami, and organizing the World Ocean Day celebration on June 8 by having the children artwork contest every year since 2006. The initiative to implement the Women, Youth and the Sea Programme in tsunami preparedness and response has been carried out since 2008. However, these implementations have been affected by political changes and instability of the country from 2002 to the present time. Though some of these initiatives were ignored and could not be translated into current actions, I conclude that I can pass through these difficult processes with discipline, integrity, devotion, sincerity and courage. Above all, my strong will and knowledge obtained from the IOI training course in 1999 are the key factors for many of these achievements.